Alpen 8.0mm Keramo Extreme Tile Drill Only
Code: A30008001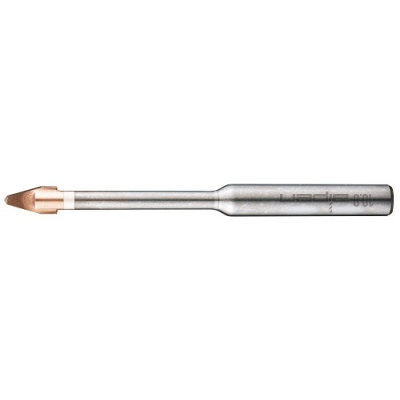 The Keramo Extreme drill bit is designed for all tiles especially porcelain and granite. It is ideal for use in cordless machines on rotary only particularly the 18 Volt combi range of drills.
The optimum cutting speed for this combination of hard tiles and machine is the low speed setting at full trigger pressure. Good firm pressure should be applied (35-45kg); you should be able to hear the drill scratch the surface of the tile.
It is recommended that you take 3 to 4 passes to complete each hole this will reduce the heat and extend the life of the drill. In between holes allow the drill to cool naturally as this will also extend the life of the drill. Sudden cooling by dipping in water will significantly reduce the operating life.
Once you are through the tile use a masonry drill for your anchor hole.